Here we go again! The latest prime minister has appointed yet another Health and Social Care Secretary, who yet again claims to be going to deal with the NHS crisis without putting in the vitally needed resources. We expect more empty announcements and sound bites like her A,B,C,D (ambulances, backlog care, doctors and dentists).
Clearly the situation in the NHS is pretty grim. In August around 28 000 people waited more than 12 hours on trolleys in emergency departments for a hospital bed. 6 .7 million people are now on waiting lists and NHS staff vacancies have increased to 132,000, with 40,000 experienced nurses leaving in a year – wiping out most new starters!
No wonder NHS unions are balloting members on industrial action, including for the first time ever the RCN (Royal College of Nursing) – they certainly have our support.
WILL THERESE COFFEY'S "PLAN FOR PATIENTS" STOP THE ROT – WE DON'T THINK SO
If you want to address the crisis in the NHS, a good place to start for a new Health Secretary would be to talk to GPs and the wider NHS, but NO – the "plan" was drawn up in a few days without any consultation. Sadly, this is nothing new for Government Ministers.
The 'expectation' that patients will get an appointment within two weeks with their GP and on the same day if its urgent, has had the most media coverage. Most patients (85% in July 2022) already get an appointment within two weeks of booking—almost half (44%) on the same day. Since you can't compel GPs to cap waiting times at 2 weeks without renegotiating their contracts, Coffey is proposing that around 3 million patients should be offered appointments with physiotherapists, pharmacies and other health care professionals instead of doctors!
Once again we have the tired old nonsense of redirecting people away from A&E, which doesn't work for seriously ill patients who need ambulances and hospital beds (we heard it often when they tried to close Ealing's A&E). So we have more helplines, more ambulance call handlers, more monitoring of people at home, virtual beds and so on but no real extra staff or any more actual beds.
Without any extra money, soaring inflation and energy costs and a staffing crisis, it's no surprise that they are looking to volunteers and retired clinicians to save the day!
John Lister from 'the Lowdown' has written an excellent analysis of the plan – very readable and not too long – a highly recommended read.
ESON RETURNS TO THE STREETS AFTER THE SUMMER: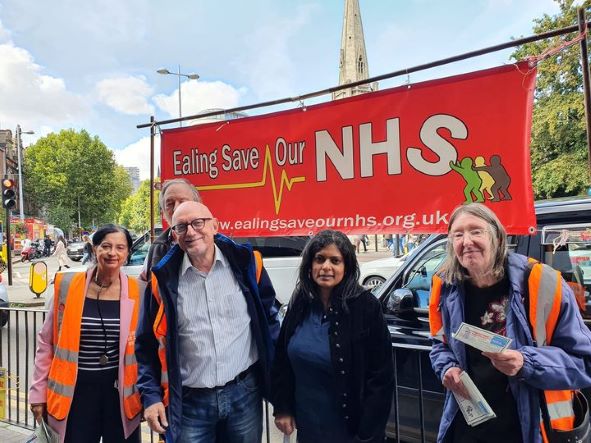 It was good to be back on the streets again last week talking to local people about what's happening to our NHS. We were not surprised to hear stories of long waits for mental health support; long waits for surgery and long waits in A&E. When people eventually get some help they are happy with the care they get and sympathise with overworked staff doing their best.
Our latest leaflet spells out very clearly the extent of the NHS crisis and who is to blame – certainly not the staff, but all the Government underfunding and drive towards privatisation!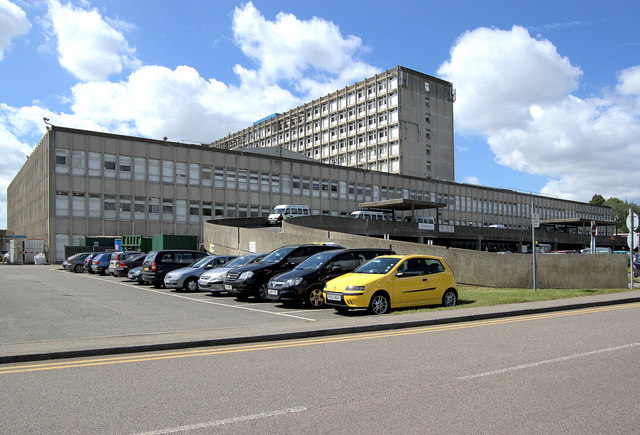 GOOD NEWS – EALING HOSPITAL GETS MORE FUNDING:
ESON is now having regular meetings with new London North West Trust Chief Executive, Pippa Nightingale, and Managing Director Mark Titcomb. It has certainly been a refreshing change to be able to hear about improvements made at Ealing Hospital and plans for even more new services, and to feel our voice and that of local people will be listened to.
A new Endoscopy Suite recently opened and there is much excitement about the major upgrade of the 'Cath Lab'. The latter is not a Lab at all but a theatre run by specialists which carries out tests and heart procedures like stents and clearing arteries – a big plus for heart care and wellbeing for our local communities. Ward refurbishments are also underway, most recently '9 North', and planned for the hard working Emergency Department. Paediatrics had an upgrade some months ago and there are now day beds staffed by a Consultant, though sadly still not a Paediatrics A&E, but you can still take your kids to Urgent Care.
Although not strictly a 'local service', plans for a NW London Community Diagnostic Hub based at Ealing Hospital are underway greatly expanding the range of diagnostic tests for our communities.
After years of neglect and losing services its great to be able to share some good news!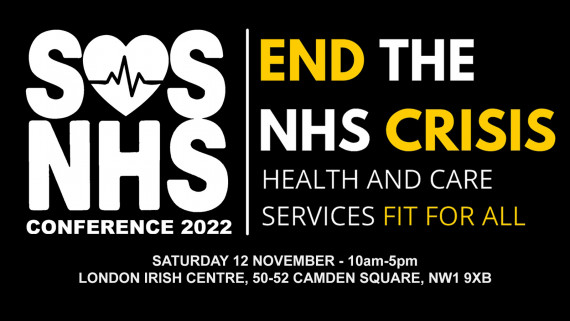 Last year a coalition including Keep Our NHS Public, Health Campaigns Together, NHS Workers Say No, We Own It, and several trade unions came together to campaign to end the crisis in the NHS.
The NHS is failing, not because of inherent flaws, but because the Government wants it to fail – to save money and bring in more private companies. We demand a health and care service fit for all.
Emergency funding to save a struggling NHS;
Guarantee free healthcare for future generations;
Pay staff properly: without fair pay, staffing shortages will cost lives
The SOS NHS Conference 2022 will be a vital opportunity to bring together all NHS supporters to create an actionable vision to save our NHS. We certainly need one as clearly the Government have no idea!
There is an excellent range of speakers and plenty of opportunity to ask questions and contribute.
The Conference will be a blended event so people can also join online as well as attend in person.
More details and how to register here –
SIGN THE PETITION TO END THE SOCIAL CARE DISGRACE
Our care system is failing many people who need care and support, putting them at risk, its also failing those who work in the care sector. Many people who need care can't afford the charges to get the care they need and have to rely on family and friends to provide unpaid care – it's a disgrace!
Keep Our NHS Public has launched a new Petition to raise awareness and demand that the Prime Minister ends the social care disgrace. Among their seven key demands is that Social Care should be provided free at the point of use and to ensure there is a properly trained workforce who get a living wage and decent working conditions.
SERIOUS THREAT TO OUR DATA AND HUMAN RIGHTS
The Data Protection and Digital Information currently going through Parliament is a major concern for health campaigners. If un-amended it would increase the extent to which citizens data can be shared with the State, law enforcement agencies and other bodies such as the commercial sector. Due to the appointment of Liz Truss the Bill has been delayed and may change, but its still worth reading this article on the KONP website.
JOIN OUR CAMPAIGN MEETING WITH DR LOUISE IRVINE
We are delighted that Dr Louise Irvine, GP and campaigner is joining us at our next meeting on Tuesday 18th October. Louise will be talking about the latest so- called 'plan for patients' and why many GPs are opposed to it. The meeting is online at 7.30pm. Please contact us for the link.