While the Government focuses on reshuffles and endless re-organisations, waiting lists continue to rise, now up to a shocking 7.8 Million. Waiting times for cancer diagnosis and treatment have also risen, as have 12 hour waits in A&Es – up by 35% since September, and patients seen within 4 hours drops yet again to 70%.
Urgent action is needed to bring down waiting lists and ensure we have enough beds and staff for Winter.
CAN A NEW HEALTH SECRETARY AVERT A WINTER CRISIS?
So we now have Victoria Atkins the sixth Health Secretary in 5 years, replacing the very unpopular Steve Barclay, who managed to stir up even greater discontent among doctors and consultants. Atkins like her predecessors has no background in health care and her husband is the CEO of British Sugar – the largest suppliers of sugar cane and beet – not much of a recommendation really.
Read more on Victoria Atkins here
DO LABOUR HAVE THE RIGHT POLICIES?
Unfortunately recent statements from Wes Streeting, Labour's Shadow Health Secretary have not bolstered the confidence of campaigners that Labour has the right policies to tackle the NHS crisis. There is clearly not going to be a big injection of much needed funds, but instead yet further reform – "Turning the NHS on its head", and no mention of reversing privatisation at all.
Acute Trusts have been told that should any new money become available the first call will be primary care, mental health, community care and social care, because that's how you get better outcomes for patients and taxpayers money. Given our battle to save Ealing Hospital this doesn't appear to be good news.

Dr Jacky Davis from 'Keep Our NHS Public' sets out what we should expect and need from Labour here
OUR NEW POSTCARDS TO LOCAL MPs ARE A BIG HIT!
After years of campaigning on the streets it was really heartwarming to have people queuing up to fill in our new postcards to local MPs at our recent Stall in West Ealing.
With an election coming up next year and an NHS in crisis we need to put as much pressure as possible on our MPs.
Around 50 cards were signed, supporting our three demands which call for; the restoration of the NHS, emergency funding and an end to privatisation.
We were not surprised to find that a large number of people didn't know who their local MP was – fortunately it is easy to look up.
A copy of our postcard is here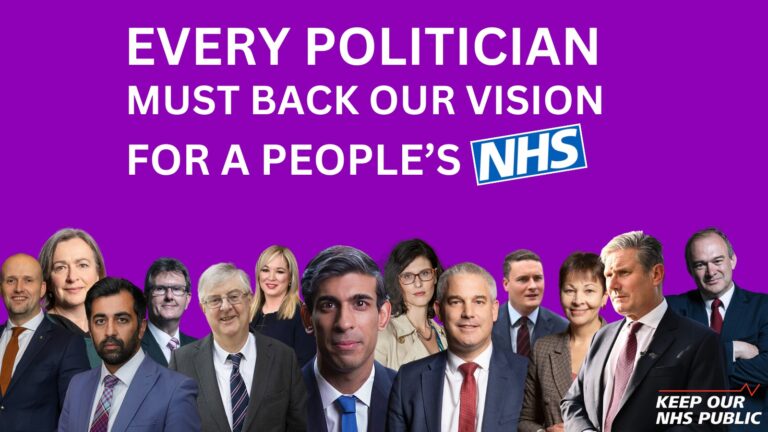 PLEASE SIGN THE PETITION – 'We Call for A Peoples NHS'
'Keep Our NHS Public' has launched a new campaign to build support for a vision for a People's NHS – our new postcards being a part of this.
They want as many trade unions, health care experts, politicians and perhaps, most important of all, us – the general public – to back their call for a return to the founding principles of the NHS, because they are what works. The vision is based on the following 5 main principles:
1. A publicly provided NHS: End private involvement
2. An NHS funded to succeed – not defunded to fail
3. Respect, recognition, and decent pay & conditions for all health workers
4. Re-invest in public health & tackle health inequalities
5. Rebuild, restore, and expand our NHS
The first step in the Campaign is to ask people to sign and share the Petition – so please do.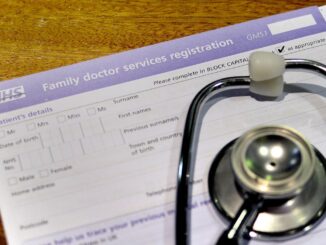 'SAFE SURGERIES' – REMOVING BARRIERS TO GP REGISTRATION:
Most of us take it for granted that we can easily register for a GP with no problem in providing proof of address and any other documentation. Unfortunately for many vulnerable people such as migrants, the homeless or those fleeing domestic abuse this is a huge barrier, despite that fact that anyone should have GP access.
In a number of Boroughs GP practices have become 'Safe Surgeries' which mean they have taken steps to tackle the difficulties faced by many migrants and others in accessing healthcare. At a minimum, this means ensuring that lack of ID or proof of address, immigration status or language are not barriers to patient registration.
Last month we had a great presentation from 'Waltham Forest Save Our NHS', who surveyed all their local GP practices and found that nearly 70% had a registration process that would unnecessarily deter migrants and others from registering.
ESON supporters have decided to conduct our own survey and campaign to encourage all our GP practices to offer access to all.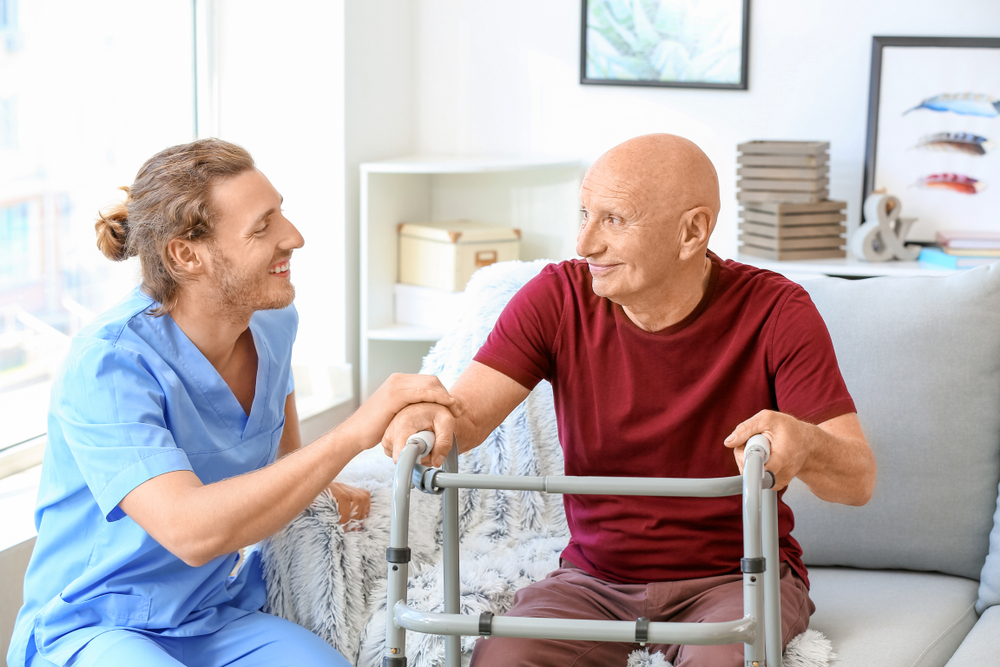 EALING SAVE OUR NHS RESPONDS TO PALLIATIVE CARE PLANS:
Over the last year a new model of care for community specialist palliative and end of life care has been developed by North West London NHS.
ESON welcomes many of the proposals and hope they will end the huge disparity and unequal provision in the services provided across the eight Boroughs within NW London NHS.
However we do have a number of concerns which include, the lack of concrete funding and a workforce plan, and the loss of inpatient beds.
We have fewer inpatient hospice beds in North West London, despite population data suggesting a 30% increase in our aging population (13 inpatient beds having been cut at Pembridge Hospice in Kensington & Chelsea). As the pressure grows on the remaining beds so might the pressure to keep people at home.
Ealing Save Our NHS has submitted our collective response after discussion and feedback from those supporters who have direct experience of palliative care and end of life services. You can read our response here
NW London residents have been invited to further share their thoughts and feedback on the care plans at upcoming webinars – link and registration here
PETITION: STOP PALANTIR GETTING ITS HANDS ON OUR DATA:
The government wants to hand US spy tech firm Palantir a £480 million contract to run a new database that will likely include huge amounts of our health data held by the NHS – the "Federated Data Platform".
Doctors, patients and a huge range of organisations have been raising concerns about the plan and what it would mean for the future of the NHS. And it looks like the government is feeling the pressure – the former UK Health Secretary Steve Barclay reportedly delayed announcing the contract because it was so unpopular.
A new Health Secretary means a new opportunity stop Palantir getting their hands on our data
Please sign the Petition here
ESON CAMPAIGN MEETING – TUES 21ST NOVEMBER – ALL WELCOME
Our next monthly meeting is face to face in Northfields Community Centre.
We will be discussing the revelations from the Covid Inquiry and planning our campaign for 'Safe Surgeries', as well as hearing reports on NW London plans to improve access to GPs and what this actually means for patients; Future Stalls and Upcoming events.
7.30pm, Tuesday 21st November in Room 1, Northfields Community Centre, 71A Northcroft Avenue, W13 9SS (Tea & Coffee provided as usual)
SOME INTERESTING ARTICLES – WELL WORTH A READ:
'Mental Health declining – What's the plan?
On World Health Day, Sylvia Davidson published this interesting article in 'the Lowdown', on the state of Mental Health. After 75 years of universal healthcare, good mental health is still too often dependent on the circumstances you are born into and your ethnicity. Even when diagnosed, treatment can be difficult to access, with long waiting lists and not of a high enough standard.
Children from the poorest families are four times as likely to have a mental health problem by the age of 11 as the wealthiest children. Black people in the UK are four times more likely to be sectioned under the Mental Health Act than white people. And people with severe mental illness face a 20-year shorter life expectancy than average in the UK.
You can read more here
NHS Dentistry – where did it all go wrong?
A retired dental practitioner has written a fascinating explanation of why 90% of NHS dentists are now not accepting new patients. It seems it's all down to changes to the dental contract introduced under Labour in 2006. Instead of being paid for the actual work you do e.g. a flat rate was introduced per filling or crown regardless of the complexity or time spent. Of course the Tory Government has done little to fix it despite the appalling state of oral health in the country.
No wonder dentists have got fed up!
You can read more here