This year the NHS celebrates its 75th Birthday and is desperately in need of some TLC.  Instead of much needed investment and staffing, the Government's latest 'saving' targets will place even more demands on our beleagured staff, many of whom are at breaking point.
NHS bosses have been ordered to find a massive £12 billion in 'efficency savings', while at the same time reducing waiting times and cutting waiting lists!  Calls for greater use of private hospitals and more productivity from already exhausted staff simply won't work. 
And it means that NHS bosses in North West London and elsewhere have to come up with unrealistic plans to satisfy their bosses in NHS England and the Government and meet these financial targets.
This is not the way to run an NHS and meet the urgent needs of patients and our communities. 
That's why we have to keep on fighting and stand up with our NHS staff.  
You can read more on how 'its going to get tougher'  here
SO CAN THE PRIVATE SECTOR BRING DOWN WAITING LISTS?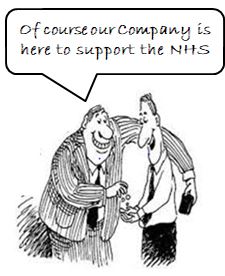 New laws are being considered by Rishi Sunak to compel NHS bosses to send even more patients for private treatment supposedly to help address the huge waiting list, but also we are told in the name of so called 'patient choice'. 
Their private sector friends have been successfully lobbying hard for more patients to fill their empty beds – and for the NHS to be paid them a much higher rate.  Sadly, even the Labour Party supports giving them more NHS patients.   
Perhaps they should try listening to the professionals actually engaged in delivering NHS services who do not share the Government's enthusiasm for more use of the private sector. 
The 'NHS Confederation' which represents providers and commissioners of services say: "Whilst this is welcome as it can alleviate the pressure on the NHS, the independent sector will not have the capabilities, workforce or capital to take on the cases which are more complex in nature and acuity".
Of course the private sector only want to cherry pick all the easy stuff – much more profitable!
And, since both the NHS and private sector "are recruiting from the same pool" of qualified staff, paid for by or taxes, the growth of the private sector actually undermines the NHS. 
Hopefully the Labour Party will listen and reconsider its new support of using the private sector to bring down waiting lists and instead focus on building more capacity in the NHS.
A more detailed analysis can be read here in 'the Lowdown'
EALING MENTAL HEALTH BED CUTS – UPDATE
As many of you will be aware, ESON has been campaigning to restore the 31 adult mental health beds closed by West London Trust during the pandemic, which left Ealing with NO ACUTE ADULT BEDS for residents aged under 65 – something the Trust seems keen not to admit! Ealing patients and their carers now have to travel to Lakeside in Hounslow or Charing Cross in Hammersmith.
The Trust carried out an 'Engagement' exercise on the bed cuts, which finished in February. ESON submitted detailed comments and presented a thousand strong hand signed petition (photo above). Many of the people who signed our petition had direct experience of using mental health services and strongly supported reinstating beds for both adults, children and young people.
West London Trust has published the results of it's 'Engagement' exercise which shows broad agreement with ESON across all the groups who responded, including service users, carers and staff, who want to keep beds in Ealing and oppose the overall loss of beds. There are also shared concerns over increased travel times and the negative effect of being further away from family, friends and support networks. Carers in particular noted they would be less able to visit regularly.
SO WHERE NEXT?
ESON and our sister campaign Hammersmith & Fulham Save Our NHS have taken the fight to save our beds up with the North West London NHS bosses who control the purse strings. We have argued that no decisions should be made to cut any beds in North West London without a clear mental health strategy in place, which 'appears 'to have been accepted by the NWL NHS bosses. As a result the 'final decision' on Ealing bed closures has been put back to September. Lets hope that means a reprieve for Ealing residents.
THE FIGHT FOR FAIR PAY – STILL A WAY TO GO: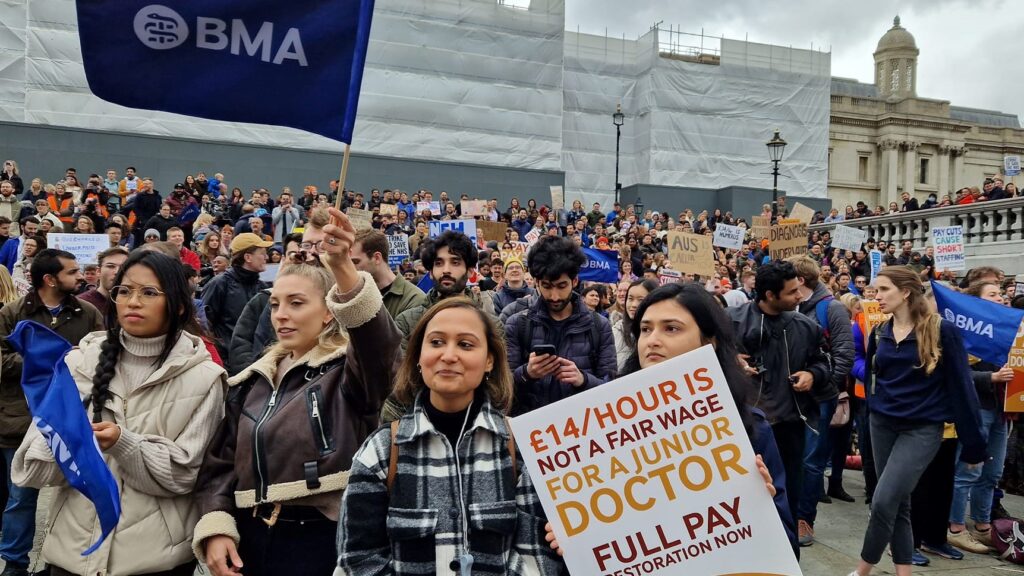 Last month ESON joined thousands of striking Junior Doctors at their London demonstration. We were left in no doubt about their determination to keep on fighting for pay restoration.
NHS workers have faced much greater declines in real terms pay compared to other workers – they certainly deserve some pay justice, if we are not to keep losing them.
Talks are now taking place between the BMA and Government Health Secretary Steve Barclay to resolve the junior doctors' dispute, but they are still very far apart.
Meanwhile Consultants are now being balloted on industrial action having also seen their pay drop by 35% in the last 10 years.
More on the junior doctor talks here

Nice story in Ealing News with a quote from us here
A QUARTER OF MILLION CHILDREN ARE DENIED MENTAL HEALTH CARE:
Children's mental health services reached a new low last month according to research by 'The House Publication'.

A quarter of a million children in the UK with mental health problems have been denied help by the NHS as it struggles to manage surging caseloads against a backdrop of a crisis in child mental health. Some NHS Trusts are failing to offer treatment to 60% of those referred by GPs, the research, based on Freedom of Information Requests, responses has found.

A postcode lottery has been revealed, with spending per child four times lower in some parts of the country than others, while average waits for a first appointment vary from 10 days to three years.

We don't have figures on West London Trust, but at a recent NHS residents meeting a member of the public said she had been waiting 8 months for help and was told by the Trust this was not unusual!

More on this story here

KEEP OUR NHS PUBLIC SURVEY SHOWS PUBLIC THINK THE NHS IS UNDERFUNDED:
A poll commissioned by Keep Our NHS Public (and conducted by Opinium) last month has found that more than two thirds (67%) of the public believe that the NHS is underfunded. Interestingly, even 58% of Conservative voters agreed that the NHS does not receive enough funds so despite the Government's spin even its own supporters don't believe them about NHS funding anymore.

Politicians should take note of the public perception of privatisation, with 40% saying there should be no private sector involvement in the NHS and 32% saying it should only provide some services.
Given that none of the political parties stands up against privatisation outright, so that the counter arguments are generally not in the mainstream media, it is not a bad result at all. Certainly campaigners have played a big part in public perceptions.
CAREER DEAD END: THE ASTONISHING STORY OF TRAINEE ANAESTHETISTS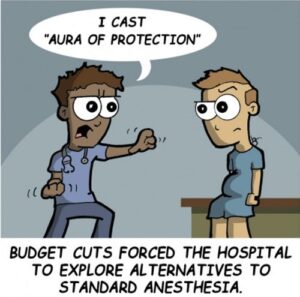 Despite significant staff shortages across the NHS, the Government's much promised Workforce Plan has still failed to materialise. As a consequence of not having a proper plan, doctors can get stranded in career limbo.
One very recent example is anaesthetists. NHS England has just told 350 doctors training in anaesthesia that it has no jobs for them after three years of training, leaving many having to either change career or go abroad to finish their training!
And yet there is a shortage of 1400 consultant and specialty grade anaesthetists. Dealing with this shortage is absolutely essential to reducing the ever growing waiting lists, but not without a proper costed workforce plan. In the meantime the Government continues to promote ever greater use of the private sector.
COMING UP: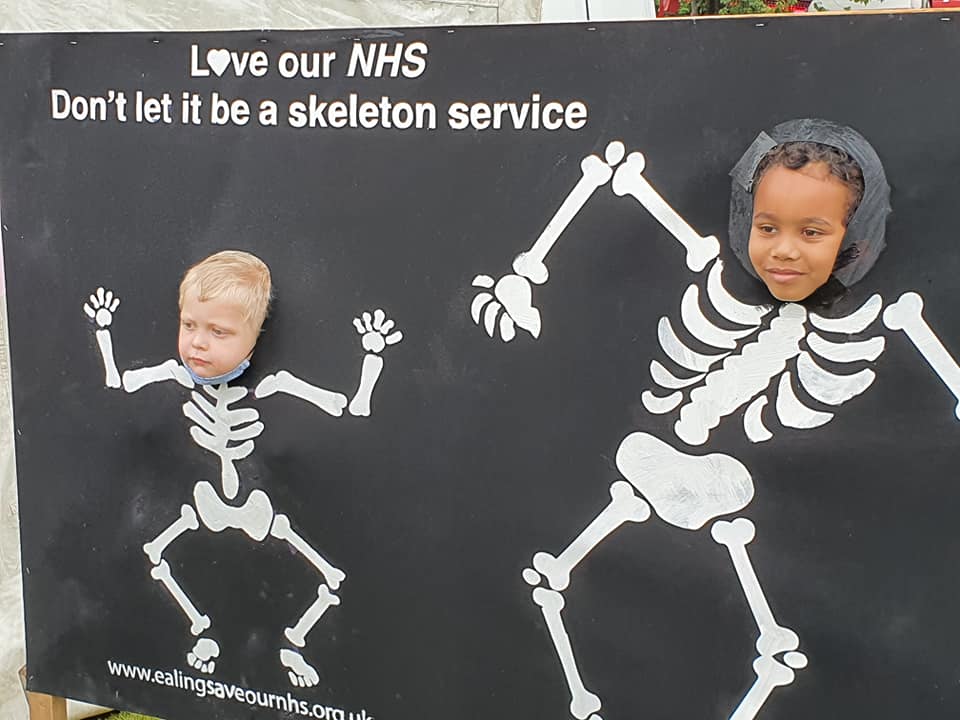 HANWELL CARNIVAL –SATURDAY 17TH JUNE
Once again Ealing Save Our NHS is joining in the festivities in Elthorne Park with our colourful Stall and some fun for the kids with our 'Skeletons cut –out'. As it's the NHS 75th Birthday we will be asking people to leave personal messages for our NHS Staff in their fight for pay justice, as well as getting out the message on the urgent need for proper funding and an end to privatisation.
NHS 75TH BIRTHDAY – SATURDAY 1ST JULY – 12 NOON – EALING HOSPITAL
Ealing Save Our NHS will be joining other campaigners across the country in a day of protest and support for our NHS staff, with speakers, placards and chanting.  As it's a celebration we will also have some music, singing and of course cake.  More details nearer the time. Please make a note in your diaries.