Our precious National Health Service is going to be 75 years old on July 5. We know it's literally a lifeline for all, largely thanks to its 1.26 million overworked and underpaid staff, who are defying the odds to keep services going in the face of cuts and privatisation.
With just a couple of weeks to go to the anniversary, it's been revealed that a record 7.42 million people are now on the waiting list for treatment! It's a stark reminder of how much the NHS is suffering from underfunding.
It's no wonder that NHS Staff have finally taken to the picket lines to express their anger and to shine a light on the state of the NHS.
Please join with Ealing Save Our NHS to SHOW OUR SUPPORT FOR OUR NHS on Saturday 1st July outside Ealing Hospital.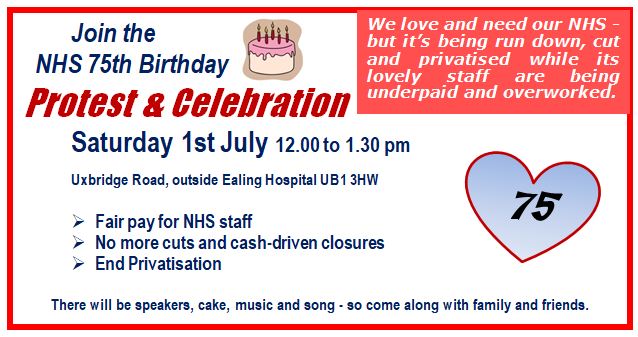 On 1st July we will be celebrating 75 years of a free, publicly owned and publicly run NHS (well almost) and our amazing NHS Staff, whilst also calling for proper resources, fair pay and an end to privatisation.
There will be speakers and singing, plenty of placards and of course cake!
Our speakers include; Dr Sonia Adesara, NHS doctor and well-known activist from 'Keep Our NHS Public', local MP Virendra Sharma, Dr Onkar Sahota (GP and GLA member Ealing & Hillingdon), Dr Kate Crossland (NHS doctor and Green Party), plus other health workers and campaigners.
The event is also supported by Ealing Trades Council.
PLEASE COME AND JOIN US AND BRING FRIENDS & FAMILY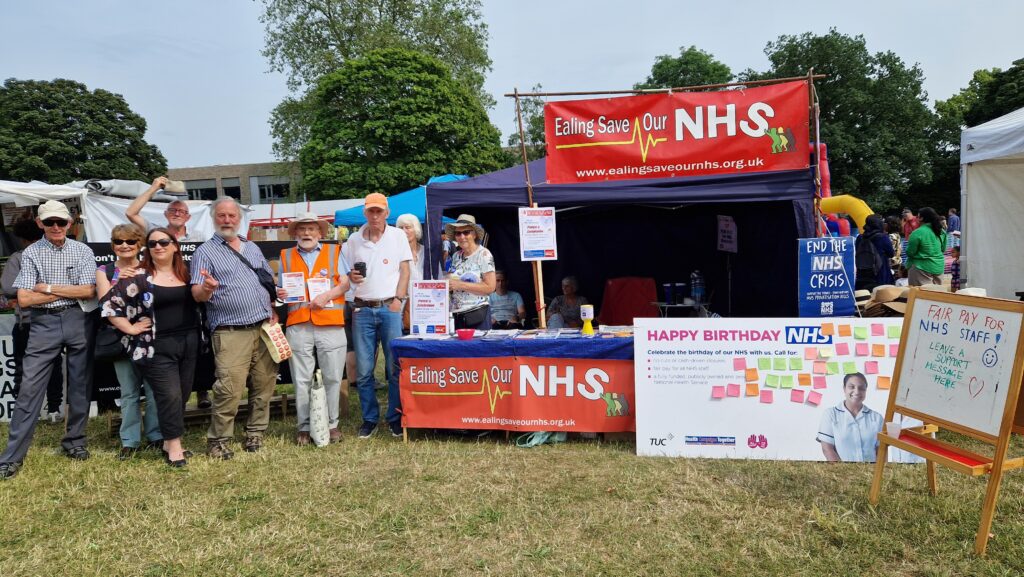 LOTS OF SUPPORT FOR OUR NHS AT HANWELL CARNIVAL:
As always our lovely supporters rallied round to staff our Stall from 12.00 – 6.00pm, despite the heat – what stars!
This year it looked particularly good with our face-in-the-hole 'Skeletons' and our mammoth Birthday card.
It's always a great opportunity to talk to big numbers of local people about the NHS crisis and to promote our campaigns and our 75TH Birthday event.
It was really heartening to hear all the support for our NHS despite all the problems and to read the cracking messages left on our birthday card in support of NHS Staff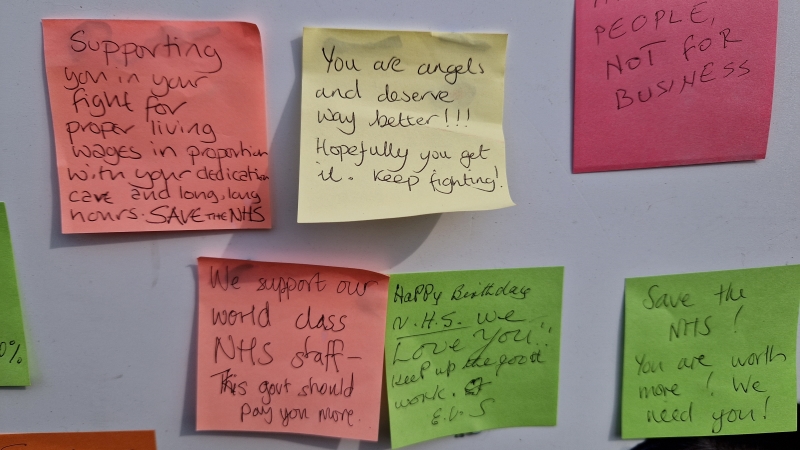 EALING HOSPITAL – IN BRIEF
We met recently with London North West Trust CEO, Pippa Nightingale and Mark Titcomb (Managing Director of Ealing & Central Middx)
The Trust has drawn up a 5 year Strategy and we were keen to hear how similar plans for Ealing Hospital were progressing. Currently they have consultants drawing up a range of options and fully intend to involve staff and engage with the public. In the meantime work will be carried out to improve the A&E.
Work is now underway on the new North West London Community Diagnostic Centre, with Imaging (X Rays etc.) due to open in December. This will be in addition to the services currently operating at the Hospital, so it's good news for local residents. As to be expected a huge priority for the Trust is to get the Waiting Lists down but thankfully, unlike some other Trusts, they will not need to use private hospitals, which are more expensive and overall counterproductive.
STILL NO JUSTICE FOR JUNIOR DOCTORS
Last week, with heavy hearts, Junior Doctors took strike action for the third time, unable to see any alternative, with a Government unwilling to even discuss their justifiable claim. Some of their colleagues have completely lost hope of any justice and left the NHS to go to Australia or New Zealand where they can expect more pay for less hours.
This is of course not just a strike about pay but a product of an NHS in crisis, suffering from lack of staff, resources and beds due to underinvestment or investment in the wrong hands – i.e. the private sector.
The money is there if you have the political will, as we saw during Covid with vast sums being found very quickly for PPE, Track & Trace and even now to pay for overpriced private hospitals.
When you look at the pay graph below it's not surprising that morale is so low among junior doctors and consultants, who are also being balloted on industrial action.
COVID INQUIRY – THE VOICES OF THE BEREAVED FAMILIES MUST BE HEARD!
Around 100 bereaved families travelled to London on the first day of the Covid 19 Inquiry to make their presence felt. The Covid 19 Bereaved Families for Justice, who have campaigned tirelessly for an Inquiry, are very concerned that the families are being side-lined, with none of them even being called as witnesses in the first stage.
Determined to have their voices heard they stood outside the Inquiry dressed in red with photos of their loved ones whilst a mobile billboard played their stories.
"Today we made clear that there will be no silencing of the bereaved when it comes to this Inquiry and we will do whatever it takes to make sure the voices of our loved ones are at the heart of this process. If the Inquiry won't call our members as witnesses to share their testimony in the courtroom, we'll be there standing outside with a megaphone".
There is a very moving story in 'the Independent' from Jo Goodman, co-founder of 'Covid 19 Bereaved Families for Justice'
The truth about how the Government failed their loved ones must be very hard to hear, but at least it may now be out in the open.
They are asking for donations, no matter how small to ensure that bereaved families are able to bring their voices to every stage of the inquiry. Link is here.
Tony O Sullivan, Co – Chair of Keep Our NHS Public, which had its own 'Peoples Covid Inquiry' was also present and has written an interesting assessment.
You can read it here
'PALANTIR' – GRAVE CONCERNS ABOUT THE SAFETY OF OUR PERSONAL INFORMATION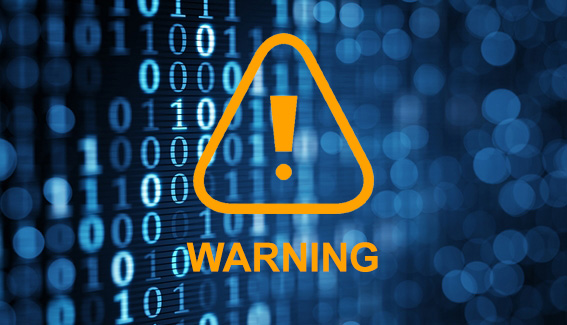 It has just been revealed that US based multinational Company 'Palantir' has been awarded a £25 million contract to work on a massive NHS data project – called the 'Federated Data Platform' (FDP). The FDP will be the largest single point of access to NHS patient data this country has ever seen. The final contract is worth a whopping £480 million and gives the company a huge advantage against any rival.
According to Research from YouGov, nearly half of English adults who haven't yet opted out of NHS data-sharing said they would be likely to do so if the FDP was introduced and run by a private company. This would mean an additional 20 million patients removing consent.
Palantir's secretive nature and close links with the CIA make it clearly unsuitable to have access to our confidential data. Furthermore until 2019, when they were given NHS contracts by the Government, they had no involvement in health care.
Dr David Wrigley, digital lead of BMA's GP committee, said:
'The crux of the doctor-patient relationship is trust, and while GPs are supportive of safe and consensual uses of patient data – such as for direct care and legitimate research purposes – we want to see it done in a way that won't damage the confidence that patients have in the profession, and the care they receive.'
Data Campaigners Foxglove and Doctors Association UK have recently sent a report to every MP outlining the risks of Palantir being involved in any way in this massive data platform. You can read more about this and their concerns here.
NHS 75TH RALLY – WE NEED A FULLY PUBLIC NHS
KEEP OUR NHS PUBLIC will mark the NHS 75th Anniversary with a call to return to it's founding principles of a fully funded publicly provided NHS, free for all.
The Online Rally is on Weds 5th July from 6.30 -8.00pm and has some really good speakers
More details and how to register here
HEALTH CAMPAIGNS TOGETHER – SPECIAL NHS 75 – WELL WORTH A READ
This special issue is packed full of great stories, useful statistics and analysis. Some of the stories well worth a read are; the binning of the '40 new hospitals' pledge; Mental Health – still the Poor Relation; Migrant Workers, a key to NHS Survival and the Vision for the NHS.
You can read it here